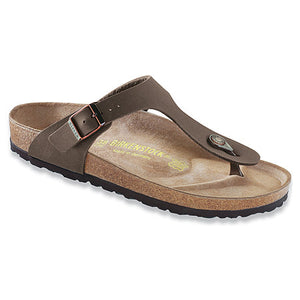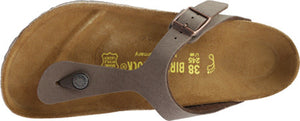 Birkenstock Women's Gizeh Mocha Birkibuc Medium 43751
The Gizeh is the most iconic thong sandal with a stylish but clean look that's perfect for almost any outfit. The toe piece is made of flexible resin, anatomically designed to fit comfortably between the toes and the strap has a buckle for a secure fit.

Upper material: Birkibuc - a synthetic material made of acrylic and polyamide felt fibers that is comfortable and tear-resistant. This material offers a textured finish that looks and feels like velvety nubuck. Wipes clean with mild soap and water.
Footbed: The classic Birkenstock footbed - features pronounced arch support, a deep heel cup, and a roomy toe box. The footbed conforms to the shape of your foot.
Sole material: EVA - flexible, lightweight, durable and shock absorbing.

The fit of these shoes is large, please order 1/2 to 1 full size smaller than what you normally wear.